Cedrus Mansion
RolesTypeYear
Client : Mr Javardi
Location : Tajrish ,Tehran, Iran
Function : Residential
Completed : 2017
Roles : Design & Construction
Design Philosophy and Process
The design team worked closely with client on this project to understand their requirements and achieve the best design outcome.
The highlight of client's brief was having a grand entry and a sophisticated and eye-catching facade, this led the design team to adopting traditional Iranian architecture and landscape design methodology and elements to channelize those requirements without sacrificing the initial design intent.
Design Process
As shown in the diagrams the design started with a solid mass which was later broken into separate levels and a distinctive timber awning was added to the top in order to achieve maximum visual impact. Inspired by traditional Iranian architecture, a special design treatment was incorporated into the lower two levels to facilitate a visual interaction with street scope. The entry was extended out and emphasized on by incorporating Iranian architectural elements which resulted in a more open and inviting space.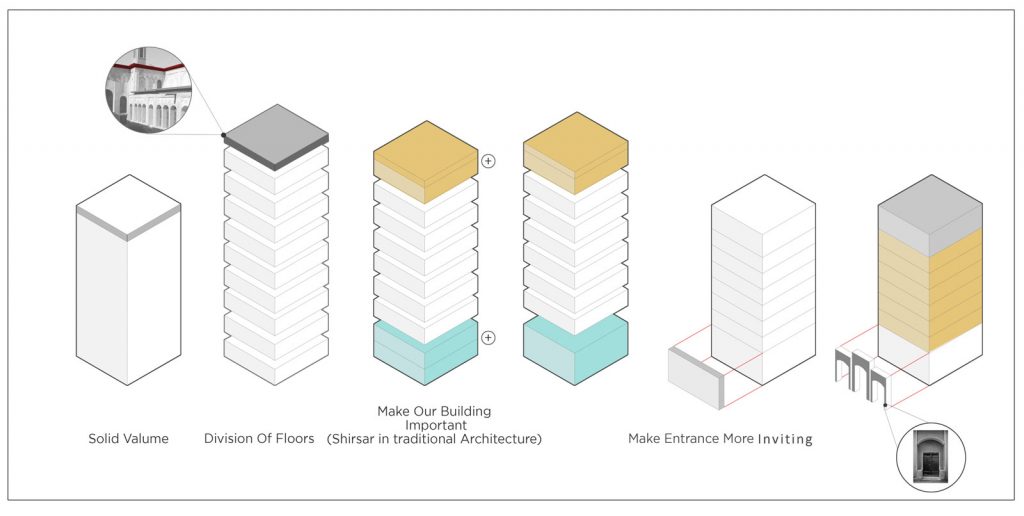 Another clever strategy was the building site's contribution to public open space by introducing a set back on the southwest corner of site and optimizing the border line angles following the building's dominant lines on the floor plan.
Unit floor plans have generous proportions and designed around an open and fluid space for kitchen/ living area with abundant landscape views and a semi-secluded space for bedrooms. Luxurious joinery, finishes, fittings & fixtures in amenities and ample storage add to the appeal of these units.
This was how Cedros Residential Complex was transformed into Cedros Mansion…