Client : Mr.Chen
Location : Orinda, California, USA.
Function : Residential
Completed : 2019
Roles : Design
Chen Residence is located at Wilder, Orinda. Nestled away in beautiful rolling hills, Orinda exudes natural charm, as its scenery remains preserved. Being nestled away and serene nature while just 15 miles from San Francisco and all it has to offer is what makes living in the diverse and warm-hearted community of Wilder so special.
Gaze upon the verdant hillside through glass walls that slide away, letting the outside in. Built for the joy of entertaining as well as intimate seclusion, this modern residence incorporates technological innovation while reflecting its natural surroundings. It is as unique an experience of architectural sophistication as can be found in today's building design.
Pushing the boundaries of custom design, this extraordinary vision was meticulously implemented at every phase of development with skillful and flexible engineering. From the gorgeous glass-enclosed wine cellar to the 15-foot-high ceilings brimming with colors radiating from hidden LEDs, this impressive residence exudes unparalleled creativity and character. Stepping through the custom made entry door with beautiful cedar wood and intricate metalwork offers a preview of what has to come. The living room provides for a grand entry as you are welcomed by 15-foot high ceilings brimming with color. Sunlight shines through large sleek doors and windows with magnificent views of picturesque, Rolling Hills
There is a strong connection with the outdoors felt throughout the house. The house is elegantly designed as every inch was thoughtfully chosen. The subtle way that materials converge makes this architecture so unique and special. As you enter the functionally aesthetic modern kitchen, you cannot help but admire the custom-made Sycamore cabinets placed over designer tiles from Spain.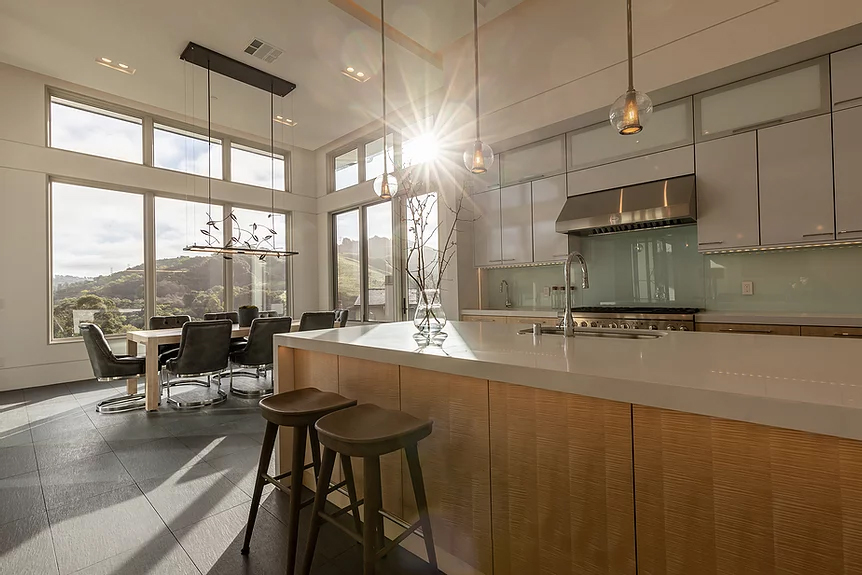 The primary Master Suite provides a calming-scape. Each room was given its own personal touch and expresses artistic character. A second master suite is perfect for hosting family and friends. Looking out at the Wilder Hills, the east-facing terrace is ideal for outdoor gatherings and entertainment.